If you haven't come across Evolver check it out for consciousness and thought changing stuff. Somewhat similar to the worldwide Transition Town movement. Evolver is screening "2012: A Time for Change" movie December 9th.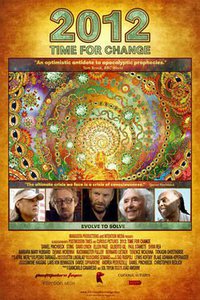 2012


Directed by Emmy Award nominee João Amorim, the film follows journalist Daniel Pinchbeck, author of the bestselling 2012: The Return of Quetzalcoatl, on a quest for a new paradigm that integrates the archaic wisdom of tribal cultures with the scientific method. As conscious agents of evolution, we can redesign post-industrial society on ecological principles to make a world that works for all. Rather than breakdown and barbarism, 2012 heralds the birth of a regenerative planetary culture where collaboration replaces competition, where exploration of psyche and spirit becomes the new cutting edge, replacing the sterile materialism that has pushed our world to the brink.
More info at http://www.facebook.com/robin.gunkel#!/event.php?eid=112886885444138



Evolver


We have events at least once a month that span a broad range of consciousness-related topics, from food production to peak oil, entheogenic medicines to visionary film screenings. Please join us and share your ideas, stories, projects, communities or anything else related to the evolution of collective and/or individual consciousness.
More info at http://www.facebook.com/robin.gunkel#!/group.php?gid=210773933913